TIM & TOM
03.03.2020
Telematics Intenational Mission & Telematics Earth Observation Mission

The TIM formation scans the earth's surface and a three-dimensional image is created.
Telematics International Mission (TIM)
The Telematics International Mission (TIM) is a multinational project to combine several nanosatellite missions in an international formation/constellation with the goal of enabling different photogrammetric earth observations with small satellites. For this purpose, the satellites simultaneously observe certain target points on the earth from different angles. From this, 3D models of the observed sceneries can be generated.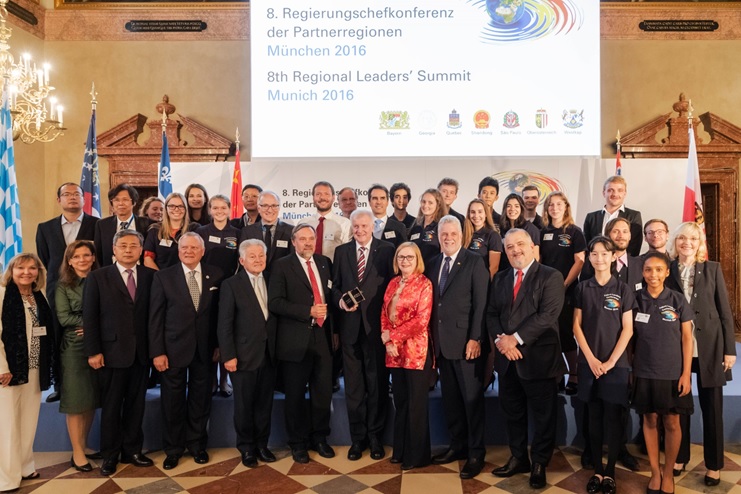 The participants of the Regional Leaders Summit
n the TIM project partners of the Regional Leader Summit (RLS) from 5 different continents cooperate under the technical direction of the Center for Telematics (Würzburg). Each partner contributes either satellites or components with the aim of carrying out photogrammetric earth observation. The joint mission thus creates additional synergies and scenarios.
Newsletter
You can find current information about TIM in our newsletter
Telematics Earth Observation Mission (TOM)
The contribution of the State of Bavaria to TIM are the 3 micro satellites of the Telematics Earth Observation Mission (TOM) flying in formations.
The aim of the TOM project is to monitor volcanic eruptions which affect daily life on earth in various ways (health, harvest or air traffic safety). The main objective is to measure the spatial extent of volcanic ash clouds. For this purpose 3 satellites map the cloud simultaneously from different angles. By post-processing and merging the observations, a 3-dimensional image is generated which provides information about the spatial distribution, height above ground, etc.
Detailed project content


The single images of the satellite formation are converted into a three-dimensional dataset of the earth's surface.
The TOM project (Telematics Earth Observation Mission) demonstrates an innovative and technically mature approach to Earth observation and communication applications. For this purpose, three small satellites with an optical payload for earth observation are being developed. The satellite data must be transmitted to earth and evaluated there. For this purpose, a ground station network will be created, consisting of the ground stations of the University of Würzburg and a network in which all international partners participate. One of the satellites will transmit a payload for a new type of high-bandwidth optical downlink in parallel with radio communications. All satellites communicate with each other via inter-satellite links and transmit recorded earth observation data to the ground station network. In addition to earth observation experiments, experiments in the field of communication (protocols, routing, scheduling, etc.) are also being conducted.
Project Duration
The project was initiated on 01.02.2017 and has a planned start in 2021.
Consortium
International Partners in TIM
National Partners in TOM
Regional Leader Summit - Small Satellites
Funding
This project is funded by the Bavarian State Ministry of Economic Affairs, Regional Development and Energy.

If you are interested in further informations about TIM/TOM, send us an email!
E-Mail: