Zentrum für Telematik e.V.
The Zentrum für Telematik e.V. informs the industry in an independent and competent way about the chances of using telematics technologies. In particular, it offers industry support in the development of innovative products and services. The main areas of application are remote maintenance and remote commissioning of industrial plants, safety monitoring, support for auxiliary personnel in dangerous situations, telemedicine, remote training and traffic control.
By integrating the core competencies of automation, human-machine interface, telecommunications and system integration, the Zentrum für Telematik e.V. can derive general recommendations and guidelines for the proposed area of application and advise industry independently of specific products. By means of demonstrator systems, test environments and training for industry, current research results are directly transferred into commercial applications. On the other hand, it also enables the transfer of requirements and needs from the individual application areas back into research. This leads to a targeted progress of developments in the field of integrated and interactive remote control, remote maintenance and remote diagnosis systems.
Telematics
Telematics (i.e. the interdisciplinary integration of telecommunications, automation technology and computer science) deals with techniques for providing services at remote locations.
What is telematics?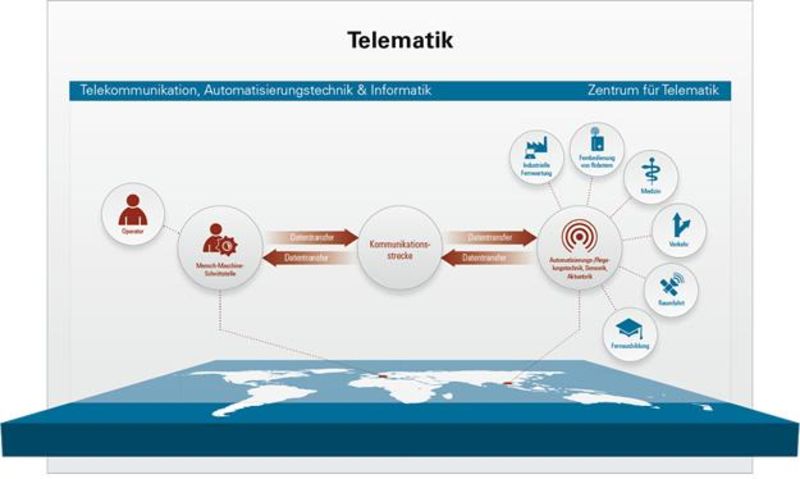 The picture illustrates the central elements of the telematics circuit: The spatial distance is bridged by a communication line. At location "A", the teleoperator is connected to the system via a human-machine interface. At the remote location "B", the target system, e.g. a machine, is adapted by sensors and actuators and can be controlled by means of automation and control technology. In telematics solutions, the four areas of competence - human-machine interface, telecommunications, automation and system integration - thus work together. On this interdisciplinary basis, applications in such diverse fields as industrial remote maintenance, remote control of robots, medicine, space travel, traffic and remote training can be realized.