Adaptive Management & Security System - Robust Remote Maintenance with ZFT-AMS

Adaptive Management & Security System
The failure of a machine has far-reaching consequences in industrial plants and must be rectified without long delays. We offer the tailor-made solution for your company.
Integrated safety solution
Adaptive and robust bandwidth control
Multi-camera operation
Integration of further programs
---
Awards

Strategic advantages
Cost saving

no travel expenses
cost-effective system due to worldwide available standard hardware
low software licensing costs
Time saving

short response times
field-tested complete system developed with users from industry
IT integration services and expert know-how through the ZfT
Quality advantage

efficient remote intervention and interaction with specialists
robust with bandwidth fluctuations
minimum latency
---
Application videos
Industrial remote maintenance
Remote maintenance in the woodworking industry
---
Unique Selling Points
Bandwidth control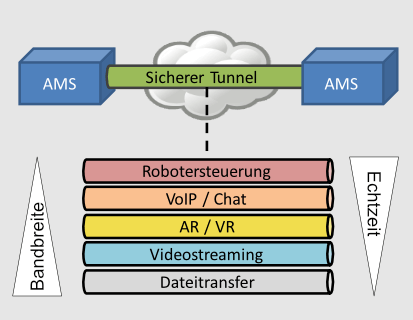 We understand remote maintenance as a special combination of services that influence each other and have different requirements for real time and bandwidth. The control algorithms developed by us intervene according to these requirements if the available bandwidth is not sufficient to transmit the services in best quality. This ensures that remote maintenance operations are always carried out safely, as critical services are not interrupted.
Synchronicity of the services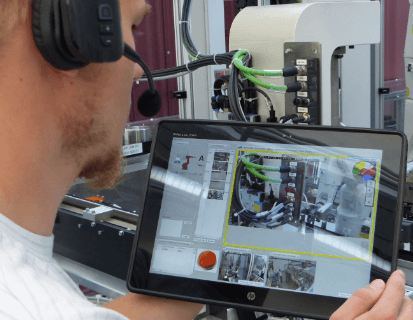 The system architecture ensures that experts and technicians always see the same synchronized image. This is the only way to ensure that experts and technicians can always talk about the same issues. If video feedback and VoIP are not sufficient, it is possible to make comments directly in the video stream or to transmit critical information such as serial numbers via the integrated chat.
Multi-camera perspectives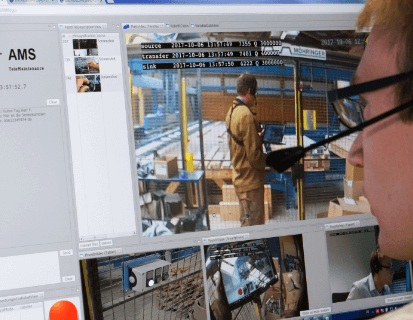 A remote maintenance assignment makes high demands on the instructing expert of your company. Not only the goal of a successful diagnosis, repair, maintenance or commissioning are in focus, but also the safety of the instructed service technician must be in focus. This cannot be guaranteed by transmitting the technician's field of vision alone. Our solution is therefore based on the simultaneous transmission of up to four camera perspectives (overview, body cam, handheld and expert), so that you can provide safe and competent instruction.
Standard hardware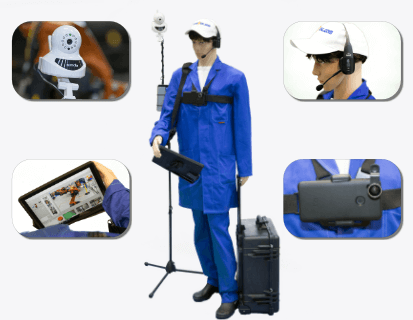 We rely on globally available standard hardware and save you the trouble of integrating proprietary hardware into your infrastructure. There are no specifications in your company? We advise you on the appropriate selection of the components that make sense for you, from headsets to mobile devices to servers.
IT service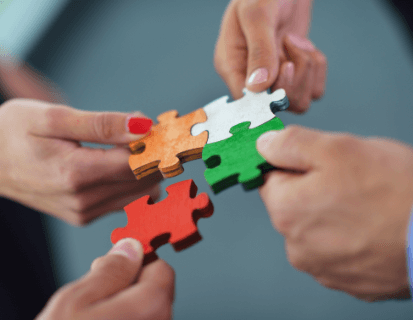 Whether for integration into company-specific IT architectures or for setting up a network infrastructure in small and medium-sized companies: We offer the services you need to put our remote maintenance solution into operation and don't leave you alone even on the last meter. We advise you on security guidelines and support you in connecting to ERP/CRM systems. Of course, our software is constantly being further developed and we help you to find the right solution for your company.
Expandable system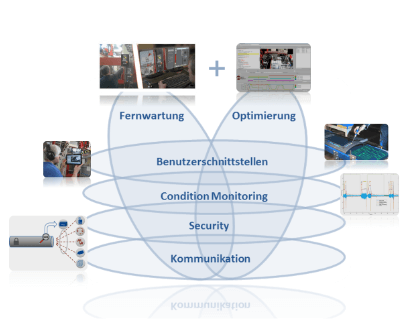 We already offer interfaces for common communication protocols for the control of machines and robots (Kuka/Reis, Siemens SPS, OPC/UA), but we are happy to integrate others according to your requirements. In addition, the ZFT-AMS can be extended with modules for condition monitoring, data analytics and predictive maintenance as well as for the optimization of your production.
---
Customer opinions

»ZFT-AMS helps us to overcome challenges in the international manufacturing network of Rexroth Linear Technology much more quickly. It helps to reduce downtimes or to accelerate start-ups. The system also makes a valuable contribution to communication between the sites in terms of cultural differences and language barriers. It thus reduces the need for business trips.
Therefore: Thumbs up and many thanks for the support!
Kay Wiederhold - Digitalization & Industry 4.0, Bosch Rexroth AG Schweinfurt

"As the lead plant for oral care, predictive maintenance and remote maintenance play a key role. Thanks to ZfT's expertise, excellent results have been achieved, especially in the area of remote maintenance. With the help of the systems developed by ZfT, facilities can be serviced worldwide by local specialists. This will make a significant contribution to cost reduction at the Marktheidenfeld site".
Rolf Ruckstetter - Manager Service Engineering Procter & Gamble Manufactoring

"We benefit from ZfT's competence in the field of industrial remote maintenance. This enables us to expand our service capability worldwide. The cooperation works very well and we are looking forward to further development ideas and projects".
Dr. Ing. Stefan Moehringer - CEO Möhringer Anlagenbau GmbH
Would you like to learn more about how ZFT-AMS can take your production networking or customer service to the next level? Or would you like to try out the system live at our premises? Please contact us!