Optimization

The tools developed by ZfT enable remote diagnosis and optimization to be offered as an external service for complex industrial plants. Service technicians on site have the task of continuously optimizing the system.
Our telematics tools enable external experts from various disciplines to work together to further optimize cycle times, material and power consumption and quality. In the ZfT optimization tool, robot data is recorded and synchronized with context information such as video data. The data is bundled into a package and transmitted to the experts. The experts now carry out an analysis of the data (if necessary offline in their respective time zone and working environment) and make recommendations for optimisation.
Visualize the production process - access external knowledge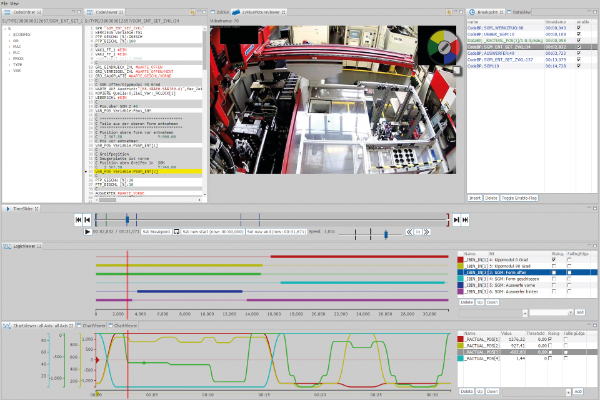 The optimisation tool is a multitrack player for industrial data. The synchronized media streams such as videos, program code, measurement data, etc. can be played back in a loop, forwards and backwards, with adjustable speed. Breakpoints can be generated automatically event-oriented or manually. A flexible interface concept allows the extension of specific algorithms or the integration of external tools. Due to a transparent view of the available consistent data package, a joint analysis by globally distributed experts is possible.
Using the tool presented by ZfT, experts from the customer were able to reduce the cycle time of a continuously running production process by 5 %.