NaKoFo-Study
09.08.2010
Navigation and communication technologies for small satellite formations
In the past, the great potential of small satellites and clusters of small satellites has already been identified and demonstrated several times. Nevertheless, satellite swarms and their coordination make high technological demands.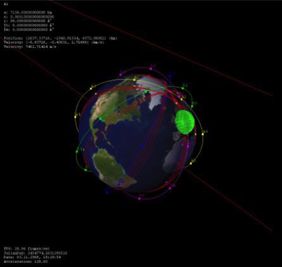 Detailed project content
This feasibility study examines in detail the technological realization of small satellite formations for earth observation and data transfer. Special emphasis is placed on the necessary communication and navigation technologies. These technologies form the basis for a smoothly functioning system, which is confronted with various types of disturbing influences such as drifting, harsh environmental conditions such as radiation and high temperature differences. This feasibility study was funded by the Bavarian Ministry of Economic Affairs, Infrastructure, Transport and Technology. The Zentrum für Telematik e.V. coordinated the project and the study is being prepared together with the Fraunhofer Institute IIS and the Chair of Informatics VII at the University of Würzburg. It also represents the necessary preliminary work for the project proposal "NaKoFo - Navigation and Communication Technologies for Small Satellite Formations".
Project partner
Fraunhofer IIS, Erlangen
Zentrum für Telematik e.V. (Leitung)
Lehrstuhl für Informatik 7 – Robotik und Telematik, Universität Würzburg
Funding
This project is funded by the Bavarian State Ministry of Economics, Infrastructure, Transport and Technology.
For further information please contact us at: