Demonstrator Center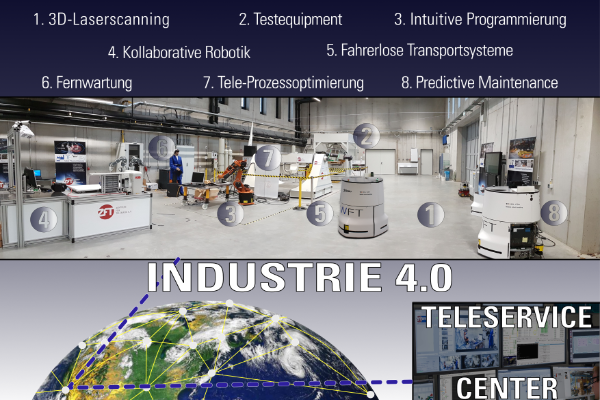 Experience digital, adaptive manufacturing!
The Zentrum für Telematik integrates relevant telematics fundamentals (telecommunications, automation technology and informatics) into a holistic demonstrator system in order to demonstrate the existing application potential using concrete examples. This facility serves to illustrate advanced networked automation technologies of "Industry 4.0" and "Digital Production" at public information events for industry, but also as an exemplary production environment in projects for the further development of industrial production. In addition to automation technology and robotics, it also includes integrated test facilities for highly dynamic motion simulation, as well as connection to globally networked systems via appropriate antenna systems.
Companies Testing Industry 4.0 Components
The demonstrator hall will be made available as a test infrastructure for adaptive production to industrial pre-developers and users - from wood processing and automotive suppliers to the space industry. The test field serves Industry 4.0 - solutions and components from the areas of manufacturing industry, logistics, IT (MES, ERP, PLM, platforms, communication), as well as automation (actuators, sensors, field communication, PLCs, control technology, system integration). The focus is on five key concepts of adaptive production: - Modern user interfaces "Augmented Reality Plug and Play - Analysis of industrial data for condition monitoring and predictive maintenance - Fault detection, diagnosis, isolation and repair in embedded systems - Remote maintenance of industrial plants with secure and robust communication - Flexible navigation for mobility in the factory of the future The core competence of the ZfT concerns the development of innovative solutions in these research areas, but also the adaptation of these concepts to customer-specific requirements. ZfT offers companies to accompany them into the future of the Industry 4.0 world, to advise them, to develop advanced Industry 4.0 solutions or to test and further develop existing systems.
Equipment
In the 200 sqm demonstrator hall you will find - Robotic manipulators - Human-Robot Collaboration - Mobile robotics - air and ground based - Precise tracking systems - Human-machine interfaces with augmented reality - Flexible navigation for driverless transport systems - Predictive maintenance Combined access to logistics planning, machine status data, live remote maintenance support for repair instructions, as well as diagnosis and optimization of processes is made possible on the basis of the specially developed software platform. The ZfT offers companies: - Training on digitisation concepts in production, - Porting of concepts to the own production, - Analyse own digitisation approaches in the test centre.
Would you like to learn more about the possibilities of digital, adaptive production, or visit our demonstrator factory? Contact us! Mail to Automation Management](/img/general/automation.png)